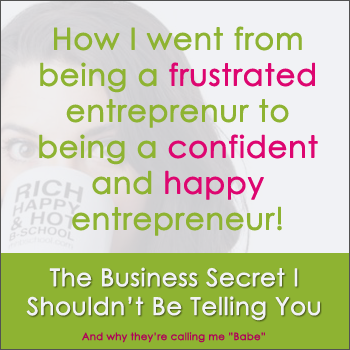 I got a "secret"… but I don't hide it very well. I'm a Babe. Yes a Real Business School Babe.
What? Your saying, thinking I've had something extra this morning. But it's real. And I'm not the only babe, there are about 2000+ other babes out there as well.
What is a B-school Babe? A B-school babe is someone who has taken Marie Forleo's Business School program. So why is this a secret? Well obviously it isn't because I'm telling you but most online marketers won't give you the juicy details of what they've learned. Let me tell you how it all started:
How I went from being a frustrated entreprenur to being a confident happy entrepreneur!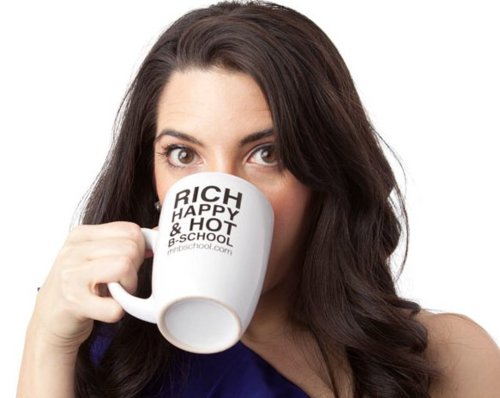 I've been in business for 7 years now, 7 years of lots of trials and errors. Also some happy moments, but there was something missing. I've been a part of many
And last year I was dying for a change. I knew that something had to change, I was way too unhappy in my business. communities online but I was missing a connection. I was missing the interraction from people who truly was interested in the best for MY business. Without thinking only of themselves and not spilling all the beans on how they did it.
I knew I wanted to make 2012 special but I had no idea just how special it would be and I didn't know where to start. And that is when I saw B-school was coming up again. I'd seen it before and I've been following Marie for quite some time enjoying her free training. And then I got curious  on B-school and thought I might as well sign up for the free videos she is sharing. So I did. And I liked it so much and something kept telling me I had to make a bigger move to improve my business.  But I was so scared! Looking at the price tag I was having some real doubts. Since I've been online for quite some time now I know a whole lot and I was worried I wouldn't learn anything new really. The subjects where stuff I already knew.
I resisted until the VERY last minute to sign up. And afterward I cried and shaked and laughed. I have never had a feeling like that and I was terrified of what I'd done.
And then B-school started. WOW! I was totally floored by what I was introduced to. Never had I experienced anything like it! I shouldn't have worried about the training, sure I knew a lot of it but the way Marie puts her own spin on it totally rocked my world! Every week, for 8 weeks, a training material was released and Marie also spent more than 2 hours with us on the phone answering all questions! And let me tell you this chic is smart! Super clever answers to everything!
And then there is the BIG BONUS: The B-school Babe community. And this I tell you is worth more than the investment. It is priceless! As of this writing there are 2,028 members and the activity and support is fabulous! If you are looking for anything, the answer will be in there! A group of professional ladies (and a few men) who knows their stuff but are also growing their businesses just like you. It doesn't matter what level you are on, there is room for you too!
Is B-school For Everyone?
I should say no shouldn't I, but I can't really see who its not for. If you are serious and want to grow your business beyond what you already have and change the world while doing it and connecting with some of the most talented professionals out there then B-school is for you!
B-School Paid For Itself!
Yep, it sure did. I've steadily been making more every month and I tell you it's got to do with B-school! Through the connections, support and new guidance I was able to completely change the way I do business and I'm still changing! And the great thing is that I know there are still lots of great opportunities to come!
It's also helped me see my value in business more clearly and have a tighter focus on what is good for me and what isn't.
Like I said it's an investment that you don't make every day but I want to help you to make sure that if you are interested in investing in yourself and your business that you will be getting your money back! If you do go through B-school and feel it was not money well inveted then the only thing you need to do is show them you have done your homework and why it's not working for you. But I highly doubt that will happen!
Important info:
Without signing up for B-school you can still get Free training videos from Marie here. Do yourself a favor and go watch them! They are really good gems! Promise!
B-school opens up for newcomers on February 20th – March 4. If you miss that chance you'll have to wait another year.
I have done B-school and I recommend it wholeheartedly, so of course I want to make sure you get the best out of it. If you decide to sign up for B-school here is my support to you totally free: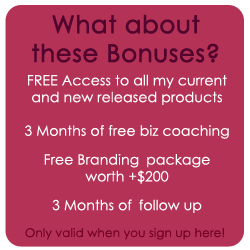 FREE Access to all my current and new released products for the whole of 2013.
A 3 month free coaching program to help you make the most out of B-school and make sure you get your investment back and much more! Value + $600. This includes a website review, planning and strategy to get your business running in no time!
A Free Branding package from Ekko Web Solutions worth +$200
3 Months of follow up after your coaching is finished.
But in order to get this you will need to make sure you sign up via this link when it's time to sign up! 
Once you have entered B-school please email me and once I've checked everything is clear we'll get started!
Have any questions or want the latest news about this? Make sure you are on the email list so you get first hand info!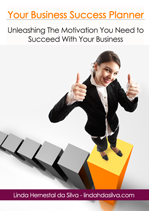 Your Business Success Planner
Learn The Tools & Techniques You Need to Market Successfully Online
Your Business Success Planner was created for you to easily see what motivates you in business and how you can create your own Business Journey Map to ensure you stay on track with your goals. Learn how to set your goals according to where you want to be with your business and how to make sure you stay away from negative habits that keep you from reaching success!
*No fluff or spam policy!