To start let me say I don't really celebrate my birthday much so deciding to celebrate it and doing it with at least a little bang  wasn't a decision that came easy. But it was also an easy decision to celebrate with you all!
I even decided to invite a few friends over for cake today. Nothing fancy and I'm not expecting gifts, just because it's nice to get together.
Monday night my son came and asked if he could give me my gift already. Of course I said yes. A few moments later he came and handed me this: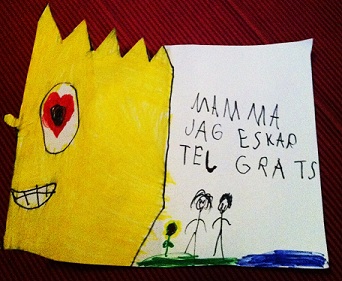 "Mom, I love you. Congratulations"
This is the best gift ever! I don't care if the spelling isn't correct, what matters is that he did it to make me happy. And he sure did. I was very touched and we didn't fight for a whole hour

LOL
It's not about what you give, it has to come from your heart. But you also have to know how to appreciate the gifts you get.
So this birthday I want to share with you, I love giving and helping so this is a great opportunity.
But first let's talk about getting older online. Age is nothing but a number right?
As we grow older we get wiser, more secure and grown up. Personally I've never disliked becoming older, quite the opposite. The only thing is I don't always remember I am older, I have days I still think I am 23 instead of 33

A Little Tip For Reaching Success Faster
When we are young insecurity can get the best of us and we hold back on dreams and things we want to do. We aren't ready for it or not experienced enough. It doesn't matter what age you start marketing your business online, it will still give you that chilly feeling in the tummy when you are about to release something new or do something you've never done before.
I was also insecure, yes I still have days I doubt, but then I am reminded of the wonderful people who trust their businesses to me and my knowledge and how it has helped them.  It sure was a long steep learning curve and I've still got a long way to go because the online world is changing every day. It doesn't matter if you've been online a year or ten, tomorrow is a new day and something new pops up and you need to make the most of it.
If there is one advice I can give you it is: make sure you are in the right company. Some people and places can help you grow while some help you but hold you back and tell you that you aren't good enough or make you feel as if you aren't ready for what lies ahead. That will delay your success for years. Instead seek out people who really are interested in helping you grow and who will cheer you on to make the most of your goals. And never be afraid of up your game! You can do it!
So Let's Celebrate This Birthday!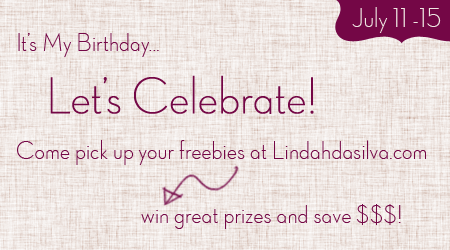 Did you know that 7 is my lucky number (yes I know it's many people's lucky number but this one really is mine!:)) So because of that 7 will be the number for this celebration.
Some religions celebrate for several days, we are going to celebrate until Sunday July 15. That is 5 whole days!
I've got some gifts for you!
When you add your name and email to the form below

you automatically get access to: The Business Success Planner, My Unique Talents – Both these gems have had massive affect on peoples business! If you are unclear about your goals and how to use your gifts and connect with your readers then this is for you.
You will also get free access to Kitchen Harmony – the ideal home planner for families. This one has been a success years and I want it to help you too if you need it. Just go here and pop in your details and you'll get forever free access!
But there is more: Every day I will select one happy celebrator who gets 20min free laser coaching with me
On Sunday there is an extra chance to win a half VIP day with me.
On Sunday there will be a drawing for seven Amazon gift cards at $10 each.
Let me save you some money! Next week I am planning on making some changes around here but before that you have the chance to save big.
In addition to everything above here are some big savings for you:  OOOOPs, offer closed!
To get additional entries for the giveaways you can do one of the following:
Tweet about the celebration – mention me @lindahdasilva
Pin the Celebration image above – tag me as @lindahdasilva
Like Lindahds on Facebook (feel free to send me a private msg with your fb fan page link)
Once you have done any of the above leave a comment below!
Now I wish you a fabulous day and I thank you from the bottom of my heart  for all the support and love that has been given to be throughout the years! I hope to connect with you soon!
Warmly,
Linda