Blogging has become such an important part of our lives, some do it for fun and some use it as a way to reach out to others and touch their lives. So today I thought we'd talk about how to set up a WordPress blog/site.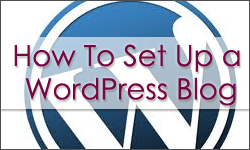 If you are wanting to market your business online, a blog is an important part and shouldn't be ignored. With a blog you have much more potential to educate and make people interested in what you have to offer.
There are many options available on the market if you want to start blogging but the most popular solution is WordPress. WordPress has two options, wordpress.com and wordpress.org. Most start with wordpress.com, but for businesses selfhosted wordpress.org is recommended as it gives you more flexibility.
WordPress.com

WordPress.com is both easy and free. The only thing you need to get started is to sign up and get a username and you can get started. The downside is that getting a username can be difficult as wordpress.org has many users. Your new blog will be hosted on wordpress.com, make sure you read their terms before signing up.
Your new blog will have wordpress.com at the end of the url. mynewsite.wordpress.org This will not be as easy to market as mysite.com. You can add your own domain but to get greater control over how your blog looks you will need to pay WordPress.com an additional fee. One of the things that makes WordPress so special is the enormous amount of plug-ins that gives lots of new options. This however is not available for WP.com. WordPress.com also do not allow ads so if you want to make money with ads such as Google ads etc this is not the option for you. There are options to upgrade for other benefits however they do not measure up to wordpress.org.
Personally I tried wordpress.com before .org I  didn't like it at all, I found it very confusing and nothing like wordpress.org
Setting up a Self-Hosted WordPress Blog

WordPress.org is a software you download for free. However you need to self-host your site. For that you need a webhost. With self-hosting you are responsible for the blog and have complete control over how it looks and functions. Don't worry if you think it sounds complicated, it's really not that hard and if you don't want to do it yourself there is always help out there.
There are three steps you need to take to get started:
Get a domain name if you haven't already got one. You can either get one through your host or at Name.com
Decide where you want to host your blog/site. I personally use and recommend HostGator and BlueHost (Swedish option: Binero). I've been with them for years and their customer service has never failed when needed. You can get started for as little as $3.96/month. It will be worth the investment and you can host as many site you want on one account. If you are just starting out the basic plan will be a good start.
Install WordPress and get started! You can either download WordPress and install yourself or you can use the hosts easy option usually SimpleScripts or Fantastico.  Basically it's just "click and go".
Making WordPress Yours – Customizing it to your liking.
Branding is important in business, when installing WordPress you will get a basic layout.  In order to get your blog to look exactly the way you want, you'll need to select a "theme" that suits your needs. There are thousands of different themes available at WordPress.org.  There are also a number of different "premium" WordPress themes that are available through different companies on the internet. Sometimes these premium themes can be worth the cost if you are looking to distinguish your blog from the countless others that are on the internet.To customize the theme further you usually need to know CSS, PHP and HTML. Thankfully there are plenty or web designers out there who can help you customize your theme to match your brand.
Using WordPress as a website
WordPress started as a blog option but has grown into a CMS (content management system) and is today used all over the world more as a website tool than just a blog platform. If its good enough for companies such as Ford, Yahoo, CNN and Blackberry it should be good enough for you right?
A few additional benefits;
You have the ability to create both pages and posts. The posts belong to your blog and the pages are individual pages you can create when necessary such as "contact", "about".
Accessible from anywhere – it's online so as long as you have Internet access you should be fine
Because it is so popular there is always someone who can help you if you run into problems
Search engines tend to like WordPress because it is easy to optimize= making it easier for you to get your message out there
There is almost always a plugin for what you want to do and if not it can probably be created.
You can add users – great if you want to invite guest bloggers to contribute regularly or your web designer needs it's own log in
Permalink options – instead of myblog.com/1243ksi822.html the url can be set as myblog.com/my-great-topic  adding search engine optimization easily
It's easy to say no to spam – plugins such as Akismet will help you with that.
You can schedule posts – perfect when you are on vacation or don't have the opportunity to post daily
With free blogging services also come their terms and conditions and if you do not follow them they have the option of removing your blog or disabling it without further notice. This can mean you will not get your blog back and lose everything you have put into it. With self-hosting you are in control and by doing regular back ups you are always sure your site can be recreated should something happen to it. Regular back ups are recommended, there are plugins to help you with this and can also be done via your web host.
What are you using for your business today? Are you happy with your choice? Would love to hear your comments and questions in the comments below!