How easy is it really to start an online business? The answer is that it isn't very complicated at all. The only thing you need to do is do it right from the start. To show you just how easy it is I have lined out 4 easy steps you can take today to start your online business. In f act your new online business can be up and running in a few minutes.
4 Easy Steps to Start an Online Business
Choose your direction What is your business going to be about? What are you passionate about? How can you use your offline experience to serve the online world? Is there a market for it?
Choose an appropriate name. If you haven't already got an idea of what to call your new business sit down and brainstorm for a while. Try to incorporate your main topics and keywords into the name. If you want to register the name you have to check it is not already in use or agaisnt any regulations. Get the domain name for your new online venture.

Extra tip:

Whenever possible use the .com ending for your domain name.
Find a home for your business. A home in this case is your web hosting account. It might be very tempting to go for free now when you are starting out but chances are that you will regret it further down the line.  Instead invest in your online business and get web hosting. I recommend and use Blue Host and HostGator. I've been with them for a few years and have nothing but good things to say about them! Find it hard to justify the spending? Cut down on your weekly "pleasure" spending such as cappuccinos, snacks, magazines etc.
Start writing! This is where the fun starts, when you can help and educate your market. Don't think about what they can do for you but what you can do for them. How can you help those wanting to know what you already know today?
You can easily do all this and be up and running in a matter of hours.  Don't worry if you don't know how to do everything you need to do. Get some help from someone who knows how to do what you want to do.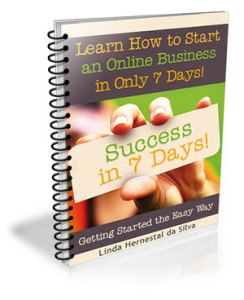 Need help with getting the website or blog up and running? Ekko Web Solutions can easily help you with everything you need for your blog or website.
If you are really serious about this new venture and want to get off to a good start I really suggest you read Success in 7 Days.  It will outline all the steps with detailed information on how to start your online business.
Want first hand info on running a successful online business?  Put your name in the box to the right and get the eGuide The 7 Success Principles – 7 Principles That will Help You Grow Your Online Business as a free gift!