So what is the real recipe for success? Is there really a recipe to follow? Too often we hear "if you follow this you can't fail" so when you try and not succeed you think you are a failure. Well, there isn't a recipe that is "suits all types of business owners". In fact there is no real recipe at all I think. But, I do think there are various aspects and ingredients you can add to your business to make it as success.
At the end of the day you are the one responsible for your success. Here are seven ingredientsI think are important when building a business: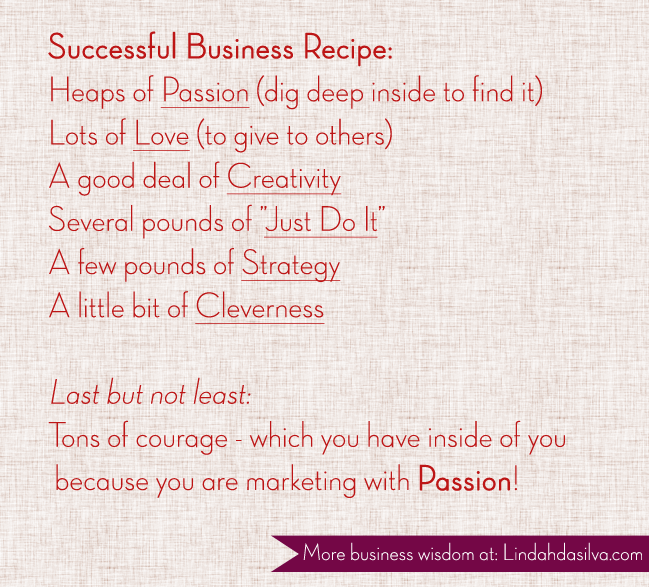 Successful Business Recipe:
You will need heaps of Passion – you may have to dig deep inside to see what "turns your on"
A Business without Love is not a passionate business – give to others and send love and it will come back to you.
You will also need a good deal Creativity of to market your business and make it unique.
Without several pounds of "Just Do it" you may not take any action at all when it all feels too much
Strategy is always good so add a few pounds of that
A little bit of cleverness is also needed – your's a smartie right?!
And last but not least: Tons of Courage – you will need it to put yourself on the line, but if you are truly marketing with passion you will have no problem doing so!
What is your recipe for success? What ingredients would you add? Leave a comment below and share what success is for you!