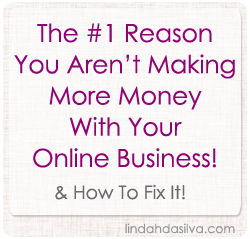 There is one mistake online business owners make and it is cosing them a lot of money! It's costing them time, money, frustration and business. The mistake? Not staying organized. And that is the #1 reason they aren't making more money with their online business!
Online marketing is fun but can also be very overwhelming. In fact most online entrepreneurs complain at least once that they are overwhelmed and don't know what to do next. One of the main things that make it complicated is that they don't know how to stay organized with everything they need to do. This leads to confusion and frustration and feelings of not being able to cope with everything. The wonderful business that was originally created with passion becomes a burden.
5 Areas Online Entrepreneurs Struggle With to Stay Organized In
Blogging – when to post, topics, keywords, re purposing etc
Affiliate marketing – what programs they are signed up for or what programs they offer and what the commission is
Keeping track of domains, web hosts and log in details – passwords and other important info
Time management and project tracking – how long something takes and how to plan accordingly
Traffic statistics – visitors, ranking. keywords etc
And of course, just like any other online entrepreneur this happened to me a few years ago. The frustration of trying to keep track of everything and growing my business without going crazy just became to much. I was spending too much time trying to stay sane and on top of everything. Result: I was not as effective as I could have been had I had a system in place and I wasted both time and money.
So how do you take control of your business again?
What you need to do is have a system in place and tools to help you! What if you knew exactly where your log in details where and didn't have to spend ten minutes trying to remember what that password was. Or you could sleep at night because you know that you are on top of everything?  What would that be worth to you?
By staying organized you know exactly what is happening in your business and you can focus on money making activities instead of worrying about everything that needs to be done.
3 Steps To Staying Organized With Your Online Business
Getting organized doesn't need to be complicated or boring, in fact it's quite the opposite. What it will bring you is peace of mind and clarity. Here are three steps you need to take to stay organized with your online business today:
Understand that you can only do so much – you need to find away to work that suits you. A way you feel comfortable with and which doesn't make you feel overwhelmed with.
Cut out the time wasters – start by writing a yearly plan and stick to it! Pay attention to what is beneficial for your business and what is a waste of time. Focus on things that will help you grow your business and consider outsource things that can be done by someone else.
Invest in tools that will help you stay organized! Exactly what this will be depend on your business. but don't be afraid to spend the money because if you use it you will find that it is worth the investment.
The WAH Organizer Will Help You Keep Your Online Business Organized
No More Frustration and Worry, tackle your online business mess in an instant! Manage your online business effectively and increase your cash flow today! No more frustration or missed project deadlines, with the WAH Organizer you will be able to handle it all. Don't spend precious time on trying to create a system that works for you, use one that already works and adapt it to your lifestyle.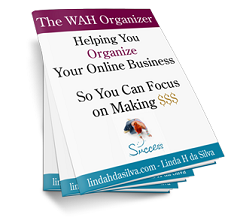 The WAH Organizer is a terrific tool!  As a newbie I especially appreciate it because the information and ready-to-use forms guide me through the process of getting organized without too much time and frustration. ~Sheri Prest-Herman, LearningPavilion.com
Linda's WAH Organizer is the answer I've been looking for all these years! It has everything I need for my VA business. Linda has saved me tons of time from having to creating all these documents myself. Thank you, thank you, thank you! I highly recommend this product to anyone running their own business that needs to get better organized! ~Tishia Lee http://tishiasavestime.com
Staying organized is no longer a daunting task, instead I look forward to plan and make the most of my time. I suggest you do the same! Go get The WAH Organizer here.
Are you one of the many entrepreneurs who are using The WAH Organizer? Leave a comment below telling how it has helped you!