It is interesting to hear people say they wish they had more hours in the day. I used to say that as well. Now I just answer: it is all about how you use your time.
You don't need more time to get more done, you just need to work more efficiently. This is a vital part of how you achieve the success you have set out for yourself.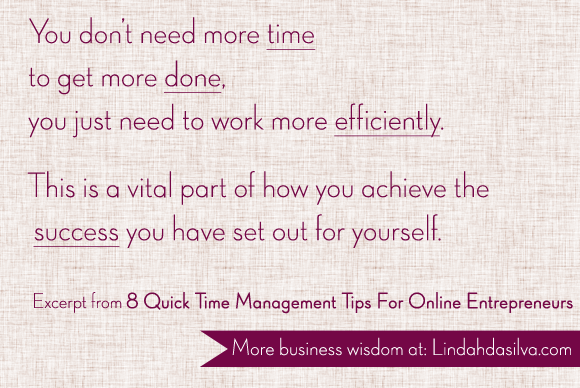 It took me some time to get this. To see clearly that what I was prioritizing wasn't what I needed to do. And at the end of the day I thought I didn't have enough time to get it all done.
Of course as business owners there will always be days we wish we had more time, but it all comes down to prioritizing.
Feel like there aren't enough hours in the day and you want more? Here are a 8 quick time management tips for online entrepreneurs:
Make a list of everything you need to do. You can have a large list with various things and a more detailed list.
Decide upon 3-7 things that are priority and that you can do in one day. Set up an action list for how to do it as well if you need to.
Cut down on things you don't need to do. If what you do have no real purpose or relation with your business you could probably cut down on it.
Learn to delegate and outsource. Great time saver and head ache reliever.
Time yourself to see what you really do spend your time on. You could be well surprised with the answers. Use a time tracker such as Easy Time Tracker. Perfect if you have many projects going on.
Ask yourself: Is this task bringing me closer to the ultimate goal I want to achieve with my business?
Be organized. Know where your things are. Take  a day to re organize your folders and documents on your computer. It will be much easier for you to find the right info when you need it.
Find out when you are most productive during the day and schedule your work then. As you are more productive you will save time.
If you follow these time management tips you will definitely save yourself some time. Decide what is an urgency and do it! The longer you wait the more stressed you will be and your business will suffer. To quote Dave TheLaunch Coach.com: Imagine you only had two hours in a  day to do your work. What would you do then? Now go do it!
That will definitely help you get going. Always check in on yourself to make sure you aren't wasting time where you shouldn't.
Do you use your time efficiently or do you often wish you had more time? What do you consider being a waste of time? Share your best time management tips below!